Using the Tottoli GSM platform, almost any solution in the field of communication services can be found. SIM-cards work according to multi-SIM technology, endless possibilities both in usual voice communications and in implementation of non-standard high-tech projects. Today we are going to speak about secure payments made by secure SIM cards.
We were approached by a client of the banking sector, who needed to solve the following tasks:
---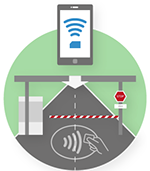 To make micro-payments using SIM-card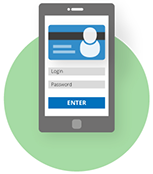 Simplify the authentication mechanism for bank clients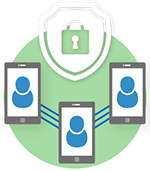 Create a mobile network for bank's clients, working on NFC technology
How does it work?
---
The integrated NFC module (Near Field Communication) makes Tottoli GSM SIM cards a universal tool for wireless banking - both at home and traveling around the world. Technologies of contactless payment, working on the basis of NFC, are becoming more popular every day, and today practically in any large store there are payment terminals supporting Visa PayPass and MasterCard PayWave. Tottoli GSM offers banks more functional and simultaneously secure payment means based on SIM-cards, which allow providing interesting and profitable service to their customers.
Three parts of modern banking
---
Multi-SIM has three unique features that can replace plastic cards and other payment instruments. The banking solution from Tottoli GSM includes contactless payments (NFC), USSD-banking and voice communications. These three components complement each other and allow the client to pay for services, access to the account and be in touch with the bank, having only his mobile phone at hand.
Consider how the Tottoli GSM SIM card works as a universal banking tool:
Mobile proximity payment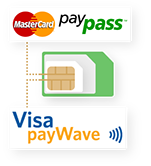 Firstly, SIM cards support contactless payments based on NFC technology (Near Field Communication), which allows data transfer between devices that are several centimeters from each other. NFC technology uses such protocols as Visa PayPass and MasterCard PayWave to transfer the payment chip ID to the POS terminal. However, the storage of the payment data can be realized not on the usual bank card, but directly in the Tottoli GSM SIM card, and in full compliance with the ISO / IEC 21481 / ECMA-352 standards. Payment applications based on Tottoli GSM work with any smartphones released after 2004. If the device initially supports NFC, for carrying out payments it is enough to install a special application from the market. For all other phones, you will also need to install an external antenna, which is attached to the back cover of the device and can be purchased in almost any communication salon.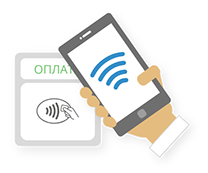 Management of payments is made in a special banking application, which each credit institution adapts to its services and services, and can also issue in accordance with its corporate identity to increase customer loyalty. Using a SIM card as a payment tool also provides a higher level of security. The user can be sure of protecting his payment means, since without permission in the application no one can get a payment chip ID.
 USSD-banking 
The second component of the integrated payment solution is USSD-banking with simplified client authorization. The USSD technology is initially simpler, more affordable and versatile than SMS. The use of modern authentication (SOP 128-3 Milenage) made it possible to avoid complex multistage customer identification systems for access to mobile banking. USSD-service allows you to quickly and easily manage your finances in your account, supported by all types of phones and different mobile operating systems.

And then the advantage of Tottoli GSM lies in the possibility of using short commands USSD in any of the networks of operators-partners of cellular communication. USSD operates at the level of the basic GSM protocol, and therefore this tool is simple and reliable, its operation does not require an Internet connection. And the architecture of Tottoli GSM services guarantees the security and protection of the user's banking transactions, wherever he is. The USTD service from Tottoli is dynamic and supports all kinds of transactions. Thanks to this, the USSD-menu can be changed and supplemented with new features at any time. And the absence of the need to install software or other additional actions from the user, allows you to position the USSD service as a means of emergency access to bills and services from anywhere in the world.
 Secure voice communication via short numbers (FMC)
The third integral component of the Tottoli GSM banking solution is voice communication within a closed group of subscribers. Thanks to the resources of the world's leading mobile operators, the bank can provide its customers with support almost anywhere in the world. Local communication profiles guarantee the minimum cost of calls, which can be included in the package of premium package of service, or written off from the client's account.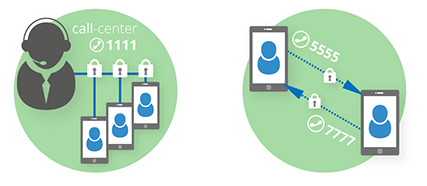 Calls to short numbers (FMC) are available only to SIM card owners, for them a closed cellular network is created. The client company can use the SIM card as a single point of contact of users with the support service and only, or offer its subscribers to use the services of protected voice communication and data transmission at local tariffs of the host country. Thus, the solution of Tottoli GSM opens the possibility for creating truly unique packages of services to attract new and increase the loyalty of existing customers.
Customized solution for you
---
The developed solutions allowed repositioning the client company as a provider of high-tech mobile services, increasing the number of micropayments, and increasing overall loyalty and building even more trusting relationships with customers. Tottoli GSM is a convenient platform for implementing modern payment services. By increasing the comfort of your customers, you also increase the level of data security and transaction security, both in Russia and in other countries. Tottoli GSM SIM cards allow you to provide support services and ensure secure payments around the world at minimal cost. Moreover, the Tottoli platform has an open interface and can be supplemented and adapted to each partner's requests.