MultiSim: Technological SIM-phony for several operators and one subscriber
Exciting stories related to Mult-Sim cards, continue to haunt the minds of advanced and meticulous users. Indeed, methods of using the SIM, containing in memory a few profiles of different mobile operators, can be created more than a dozen, and in its own way each of them will be attractive to customers who use more than one mobile number, and there are, according to official statistics, more than 60%. On average, in Eurpe to one subscriber it is one-and-a-half SIM. However, many people have not only a local SIM-card, but also a few foreign ones. It has become a tradition to bring from travels or business-trips multi-colored pieces of plastic, painted in the colors of the world's leaders of telecom industry. Foreign SIM cards do not just lie on the shelves, they are regularly used by "mobile activists" who often travel abroad due to business or leisure reasons.
Today we would like to describe an interesting case, which will allow to have a fresh look at the technology of Multi-Sim to potential subscribers and respected mobile operators.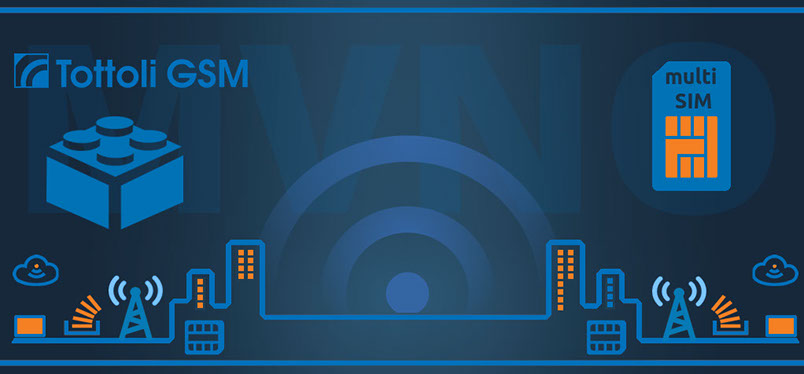 Modern mobile doesn't provide service for only trivial "Hello" both atthe level of user services, and at the infrastructure level. It is obvious that the just voice as a main way to gain profit for "mobile operators' remained somewhere at the edge of the millennium. Operators are fully aware that the market demands new approaches. Their implantation is going on, also at the level of cellular network architecture. All methods are good for a constant increase in ARPU and growth of the subscriber database. One of the architectural trends, which has loudly stated about itself in recent years, is a business model of MVNO that allows cellular operators to enter into specific markets and sell their contracts, where conventional methods of sales are difficult. In turn, the MVNO model has provoked the growth of various ecosystems, formed near the major players in this segment of the telecom business.
The company Tottoli-GSM is a leader and a major player in the brave new world of MVNO. We use already existing models and MVNO-promoting products, and actively develop new models. Tottoli-GSM - it is not just a developer and integrator, is a whole cloud PaaS MVNO-platform with a number of architectural know-how, which enable the company partners - carriers and service providers - integrated solutions in the mobile base and the FMC-technology in their product lines.

The center of the diagram Tottoli-GSM PaaS-platform. On the one hand Tottoli interacts with the network supporting operator and provides access to the basic infrastructure of the radio network at the level of technological joints, on the other hand it realizes the interface of interaction with the customer services. Tottoli business model is built on these very interfaces: a partner (service provider) can access all the functionality of the network of the supporting operator.
Using cloud-solutions for access to mobile services reduces the financial threshold of entry into the MVNO ecosystem-to vanishingly small quantities, the tens of dollars. Technological complexity also completely disappear in virtual and cloud PaaS world. Run your own virtual mobile network in just a few days, almost without resource investments.
MVNO-solutions actively develop and in addition to a core set of services - access to the infrastructure network of the donor operator - also allow to use Multi-Sim technology. Modern Sim is no longer just a "Subscriber Identity Module" is a micro-architectural marvel, consisting of a PIC-processor, memory modules and STK (SIM TooL Kit), which means that gaining access to SIM hardware and software resources, you can create own SIM-applets and applications with unique functionality. Including loading in SIM-card's memory multiple profiles of different operators (IMSI + crypro-key), implement selection algorithms of these profiles on a number of conditions, i.e. to build entirely new schemes of subscriber's interaction with mobile network. This very feature formed the basis of the cloud platform Tottoli-GSM.
Tottoli business models is based on the need of subscriber to cut the number of SIM cards and make them easier to use, while maintaining access to services, and even more clear need for the operator to get a new Subscriber with minimum value of engaging, by offering a unique service. These very needs we serve with our cloud-based project. Functional platform provides two global interaction interfaces: "Operator (service provider)-Tottoli» and «Tottoli-Subscriber (service consumer).
API is built into the operator interface, with which you can load into the cloud the link to "home" profile of SIM cards (IMSI + Ki) and provide online streaming of data from the operator's billing to Tottoli's interface. Important point: de facto profiles are not stored in the cloud platform, platform only serves as a torrent containing only links to real profiles uploaded to the cloud operator. This ensures absolute safety of operator's billing. A unique opportunity is created: to fill the global world wide database of the profiles of communication operators in one place with the provision of subscriber access to this most profiles.
In the interface of the subscriber there is a Toolkit to access operator's profiles, billing interface and payment services as well as set to top up an account balance.
Let's consider the scheme in more detailed way.

Operator MNO feels an irresistible need to increase subscriber's base and wants to gain access to the target audience, which under normal circumstances would never would become a subscriber's base of this operator due to a number of geographical and other reasons. While potential customers are active enough and interested in his services. A striking example of such a case: cellular operator, whose sales points are out of reach of potential subscriber, the subscriber does not want to come to the country or region where this network works, but he is interested in services of this operator (roaming proposal or travel DATA bundle). Downloading the link (not the profile, but just a link to it) to your own profile in cloud Tottoli, operator provides global access to its services for visitors worldwide. Anyone can become a customer of operator without raising from the chair, just by activating the desired profile on the Multi-Sim. Downloading operator's profiles in the database is the most important but not the only part of the scheme.
Next step in the technological chain is the integration of the billing component. Tottoli is able to provide real-time access to the detailization and the withdrawals of the subscriber. Business model involves a single payment instrument to recharge a single personal account of the subscriber and the unified access to detail expenses for all installed profiles and statistics. It is clear that without the data exchange interface "billing platform" this mechanism can't be implemented here. Our developers have worked thoroughly this issue, and a partner operator with a help of a step-by-step algorithm gets access to all methods used API instructions. Integration of billing data is not entirely trivial question though, but it is extremely simplified and standardized. This is one of the know-how of Tottoli-GSM. If we describe the algorithm entry into the service with the eyes of the operator, the result is an attractive, economical and innovative model of entering new markets:
registration at the global portal as a service provider;
downloading SIM-profile directly on subscriber SIM-card by the means of OTA;
interaction with the technical support of the platform for emerging issues;
monthly profit distribution;
absence of expenses on entering new markets (promotion, marketing and first level support is an area of responsibility of Tottoli-GSM).

Subscriber wants to optimize the use of SIM-cards he already has or wants to switch on the service of geographically remote cellular operator. The Subscriber is registered in the global resource Tottoli-GSM , gets the opportunity to order Multi-Sim with the delivery "to-the-door" and after receiving the SIM-card he selects the necessary profiles for downloading. By itself, the loading and activation of profiles to Multi-Sim is completely painless and simple procedure. Profiles are loaded either "over the air", when you first register SIM-card in an appropriate home or guest network, or by simple selecting the desired profile from the SIM-menu. And that's not all: a personal account of the subscriber involves the use of a single, unified personal account statistics and single payment instrument. This is a very very handy because all transactions, balance control, technical support, turning on and and turning off services and packages are available in a single global interface. Real celebration of unification and globalization. Thus, we get extremely transparent and comprehensible scheme of subscriber interaction with our platform:
a potential subscriber registers "a cloud" account Tottoli-GSM;
orders Multi-Sim with delivery to the door;
tops up a united balance;
loads the appropriate profiles;
using the SIM-menu activates and manages profiles;
controls costs and watches services consumption in detail in a unified, user-friendly interface in his native language;
communicates with technical. support of the "one window", in his mother tongue;
Pros of use by all the interested people are obvious and indisputable. For greater credibility and visibility, let's consider specific example.
Some subscriber is going to the Christmas trip to Central and Western Europe. Plans are truly enormous: from the evening Prague and Charles Bridge to morning Barcelona's Sagrada Familia. And all this in a couple of weeks. Subscriber is completely unwilling to fall out of active business life, because everything that has to do with the holidays and the new year, generates enormous revenues. Business, remaining at home, keeps working, and need constant monitoring of bubbling processes, which means incoming-outgoing calls, Internet access, a few SMS and geo-services. Such a trip absolutely excludes the purchase of local SIM-cards in large quantities and their tedious activations well as studying the tariffs on the run - a subscriber will cross five or six boundaries. Roaming options of home operator in practice look quite different from promotional announcements, which means there is only one way out - Multi-Sim and several relevant profiles for those networks, in which the caller will actively communicate with colleagues.
Before leaving a subscriber (with a cup of coffee and a smartphone) thoughtfully examines the rates on a global platform of Tottoli, selects the desired operator-providers, loads profiles in Multi-Sim , tops up the balance in full awareness of the future expenses and forgets the fact that somewhere in the European night there are salons of different Oranges and Vodafones. Orange and Vodafon already live in subscriber's smartphone and are waiting.

Subscriber will activate the appropriate SIM-profile every time he crosses the border and every time when Multisim appears in "guest-home" network, this "guest-home" network sees the emergence of "local" SIM-card, sends SMS to the Subscriber "welcome home" and begins charging services according to the most humane local rates. Subscriber is happy, almost all the time he can devote to sightseeing and visiting bars, periodically interrupting for the relaxed communicating with distant homeland. Tariffs allow. Only occasionally subscriber checks his balance, each time making sure that there are even more funds in the account, than he thought. Downloaded profiles are activated in the correct sequence and, in most cases, their activation takes place automatically, based on the optimized algorithms developed by the specialists of Tottoli-GSM. The classic win-win story. Subscriber used the necessary services and saved money while Vodafon and Orange received, cloud-based, solvent Subscriber with a minimum cost of attracting and high average check.
The case described above, from our point of view, would be attractive for both operators and subscribers. We spend a lot of time and effort to develop Multi-Sim PaaS cloud and platform is now in the stage of closed internal testing. Posting this post, we have good goal: For us responses of potential subscribers and partners-suppliers are important. Right now there is a unique opportunity to influence the introduction of additional "features" of the service by simply sharing your thoughts and opinions on the functionality of the platform. What we have planned, can become a truly innovative and breakthrough project, solving the communication problem for active roaming users. All market analysis and trends in mobile communications confirm the correctness of the chosen business model. One SIM card and one account is always better than ten.
We prepare a few more exciting cases, which we plan to share in our blog. The theme of the MVNO and Multi-Sim strongly features the creative approach to traditional and well-established enough mobile communications services.