MVNO
MVNO is a cellular operator that provides services under its own brand name while using other operators' existing infrastructure. Regulary, within reference operator's infrastructure the MVNO client gets bulk access to the common network, switching centers, in many cases, a common part in billing system. This scheme allows the MVNO operator to escape great investments requiered for establishment of mobile network. Sometimes virtual operators manage to cover the market fragments unavailable for big market players (for example, ex-clients of other networks, travelers).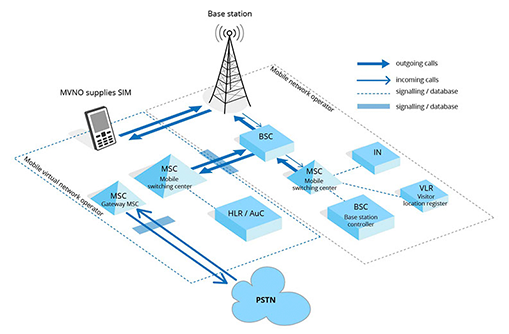 With Tottoli GSM you can become an independent mobile operator. You can organize your own GSM network. Your network can be scalable from 50 up to 500 000 subscribers.
With GSM technologies it is possible to implement almost any project: tourist SIMs, ethnic and professional networks, corporate communications for distributed offices, closed secure groups, calls to short numbers, connection to your own mobile PBX network, your own traffic and virtual numbers, and much-much more. Ask the question now and get a detailed answer (This email address is being protected from spambots. You need JavaScript enabled to view it., Skype, phone).
How it works?

The service is based on the convergention of GSM network and VoIP teleghony. Exclusive roaming agreements and direct contracts with IP providers ensures the creation of various business models.

VoIP technology gives an opportunity to involve the existing infrastructure and measurably decrease the calls prime cost to all destinations.

Using the CallBack technology, you reduce the call cost even more. Our SIM applets allow you to automate various functions.

Offered MVNO / MVNE platform is an universal tool for creation of high-tech business with minimal investments. Starting your business you can use either your means or ours, this allows the enter the market with minor risks.

SIM-cards are compatible with all popular phone models and have a different form factor: standart, micro and nano-SIM.

For inbound calls, we provide English MSISDNs of +44 format, as well as DID numbers for different countries.

Our billing panel provides total control on all SIMs events and gets statistics on real time basis. You will have access to subscribers' location, SMS, USSD, internet. You can set your own groups and rates for different services.

Full MVNO is focused on corporate client. It gives lots of opportunities for infrastructure integration and allowes to use FMC numbers (short corporate numbers for calls around the world).
MVNO models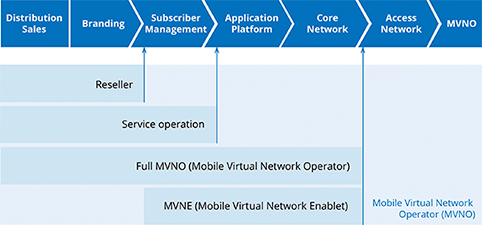 Success factors
Know your clients
Strong brand
Upsell (the way to increase your sales revenue, saling the advanced and expensive version of product), complex sales (additional goods), sales of package services
External key factors
HNO opened for MVNO
Competitive market
Low market penetration rate and open segments
Convenient control mode
Number transfer