"Your own virtual operator"
Mobile network has successfully incorporated in the IT-infrastructure of most spheres of business. The high level of pervasion of communications and the spread of mobile devices gives a lot of benefits to business, the main among them is the ability to keep customers and generate additional income. Paradoxically, but despite the popularity of mobile tools at the service of business, many companies do not realize that ... just 15 minutes is enough to start your own operator - MVNO (mobile virtual network operator). You can sell your SIM-cards, set rate plans, offer a set of services that in addition to a guaranteed wow-effect will provide a stable income. The company bears no costs of hardware, software or skilled engineers that support the network. Thus, own MVNO is available for almost any business that is ready to receive a promising source of income and a reliable tool to work with clients. Moreover, the dynamics of the market contributes to this model - for example, according to estimation of J'son & Partners Consulting the pace of growth in mobile banking from 2014 to 2018 will be 28%, and the benefits of using a converged connection will increase by 1.5 times. Is that not an argument?
MVNO is something worth trying
MVNO (mobile virtual network operator) - virtual network operator that provides services under its own brand, but doesn't have its own technical base. So, the operator releases its branded SIM-cards with its tariffs and services, but it doesn't have its own radio frequency resources and radio transmission infrastructure, but simply rents them using network switches, and sometimes billing of mobile operator. From an engineering point of view, MVNO is a scheme of the implementation of a virtual network on the basis of available radio transmission infrastructure of mobile operators. In the diagram one can see that the physical part is in the plane of MNO - regular cellular operator and virtual operator "gets» HLR (data base with information about the subscribers of the network) / AuC (Authentication Center) and MSC – mobile switching center, via the gatekeeper can connect to the PSTN - public switched telephone network. MSC of virtual operator communicates with the BSC (Base Station Controller), which unites the base stations and provides all the control logic and connects to a mobile switching center (and it directly manages the connection between the subscribers). It turns out a kind of symbiosis - a network with distinguished features is added to the usual network.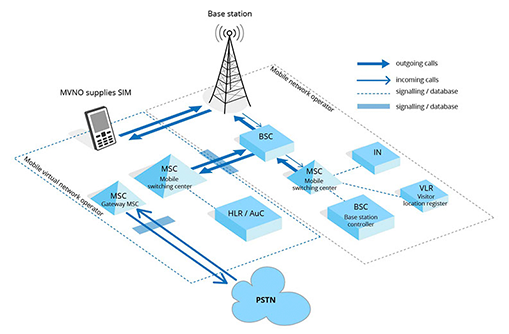 From the economic point of view, such an operator is a profitable one: in fact, you can buy traffic at wholesale prices and resell at your retail prices or distribute it, if it is required by the strategy and purpose of the MVNO. Low prices for MVNO services are possible due to the fact that there is no need to pay for expensive equipment, radio frequency, maintain, develop and upgrade infrastructure. Accordingly, the budget can be directed to the conquest of the segment of consumers and the development of a narrow niche. In general, a narrow niche product - this is a valuable feature of the MVNO business:
• economic value - getting revenue from selling traffic and services to subscribers, the narrow focus on the selected segment ensures a pool of active subscribers;
• commercial value - keeping customers by obvious advantages and benefits (low price, cheap roaming, useful content, etc.);
• psychological value - the formation of a narrow circle (niche of your subscribers who share the philosophy of the brand).
Recently, the market has another premise, which plays into the hands of the company, which decides to create a MVNO - phones and smartphones with two SIM-cards. According to the estimates of J'son & Partners Consulting, the total share of sales of smart phones with two or more SIM-cards in the world is 60% in 2014. This is a serious growth, especially since manufacturers began to offer two SIM cards not only for low-end models, but also on the top-models of the phones. To this figure can be added those who consistently have two phones from the category of "my eternal number" and "for promotional and cheap SIMs". In fact, many of your customers do not need to choose the operator, they can simply insert the second SIM-card in the phone.
It is obvious that MVNO - a good solution for the tourism industry, service providers, retailers, banks, fixed-line operators, payment systems, etc ... There is a common set of benefits that can get each company, which belongs to the listed business areas.
Using the MVNO for e-commerce and mobile advertising - a virtual operator is free to regulate the content and use the advertising features at its sole discretion in his own network.
Sending notifications and providing information services. For example, the implementation of a mobile help desk, where the subscriber can request information. And any VAS can be implemented according to two basic models:


interactive - access to services via the web-browser of mobile devices;
background - the service is available by subscription (balance, the exchange rate, the data from the terminal, and so on).

Using the service machine to machine (M2M) - sensor tracking, information from ATMs or terminals by GSM network. 
Communication with the customer, providing technical and service support.
Work with employees monitoring, ensuring connection.
Thus, the MVNO combines the advantages of a conventional GSM and VoIP mobile communication, making it a serious and popular tool for large companies.
The possibility of establishing MVNO in different branches
Our company has been involved in the creation of virtual operators in the B2B field for many years, and our experience allows to highlight a few major areas in which companies successfully use their cellular network. Initially, it was clear that different businesses require different configurations of MVNO. So we managed to create optimal solutions based on the needs of each group of potential owners of virtual network. We distinguish three basic types of creating a virtual operator.
Pro MVNO is a solution for companies with advanced PBX and those who use it, for example, for communication between employees and departments. In addition, such a network can be used for niche offers: migrants, students, volunteers of large scale events, etc. Pro MVNO gives serious possibilities:
Your own traffic and traffic converged communications (SIP + GSM). The company can take advantage of mobile network and IP-telephony at the same time.
Set your own rate plans. The only limitation is the limits established by HNO billing system (in our case, Tottoli GSM). Billing is a system that is responsible for the collection and processing data in telecommunications. Tariffication and charging schemes are also taken into account in the billing system, so when designing rate plans, you should take into consideration its features. However, it is difficult to go beyond the frameworks of the system, modern billing systems are flexible and functional.
The possibility of creating calculating mechanisms for subscribers. There are two main mechanisms: prepaid (a subscriber paid and enjoys the network) and postpaid (Subscriber used services and paid at the end of the period). If case of using Pro MVNO, a company can choose the most suitable option or combine both.
Your own technical support. On the one hand, it bears additional costs and, on the other hand, gives you extra opportunities. First and foremost it is the ability to generate knowledge about subscribers and way to implement informing and some marketing initiatives.
Managing routing and destinations. It is necessary for companies, who wish to combine, for example, branches or groups of subscribers and build rates for them.
HNO gives to owner of virtual operator the right to assign the name of the network. Payments are carried out on the side of the MVNO, Admin-Panel (billing + statistics) is provided. Such an option is suitable for companies that are ready and able to be responsible for the administration of the virtual network and to use all these advantages. These are banks, large companies and holdings with a well-developed network of branches, companies providing fixed-line services and wishing to retain subscribers and earn extra income.
Full MVNO is aimed at corporate customers, who would like to build their business in the field of telecommunications. For example, it can be owners of mobile payment services or fixed-line operators. If we turn ourselves to the global MVNO, it is possible to find many examples, when virtual operators often became competitor to the most important players of mobile communication market, for example, by conquering youth audience by low prices and aggressive marketing. There have been cases that cellular operators created MVNO to enter the private market or retain their disloyal subscribers.
In addition to the benefits of Pro MVNO listed above, company gets additional possibilities.
• Creating and using applets for SIM-cards - not independent small programs that extend the functionality of the SIM card. For example, applets turn SIM card into the pay means
• Full control of services and rate plans, use of the API.
• Assigning your own pool of numbers. The company sets its numbering plan, can control the connection, create DID numbers.
• Use of FMC (converged communications), which allows you to create telecommunication infrastructure with short numbers within your company
Actually MVNO of full value is formed - mobile operator with rate plans, base of numbers, billing, acting as HNO but without its own radio network. Tottoli GSM helps to develop MVNO using a combination of VoIP technologies and classical GSM. Cost of calls is reduced, and this ensures the possibility of forming low prices for communication, including roaming, which is often expensive and often serves the cause of termination of the contract between the subscriber and the operator. Today many business processes are connected to IP-telephony.
But there is a small feature, which sooner or later company will face -VoIP is not enough. And this is due, primarily, to mobility. So, the creation of one of the types of MVNO is a reasonable solution to build a telecommunication and IT infrastructure, aimed at optimization of processes and intensive development.